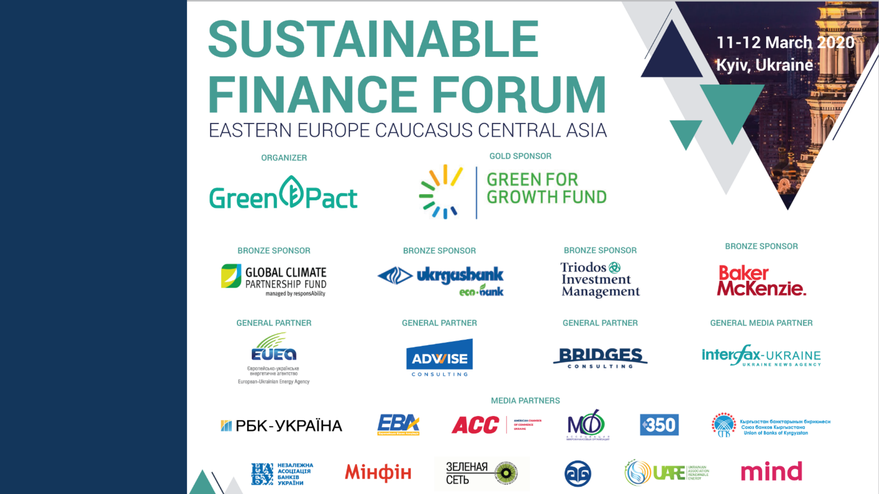 The second edition of SusFinForum took place on 11-12 March 2020 in Kyiv, Ukraine. The Deputy Minister of Energy and Environmental Protection of Ukraine Oleksiy Ryabchyn kicked off the forum on behalf of the Ministry highlighting the importance of the forum for Ukraine and the region. Andrii Stoliar, investment manager, also welcomed the participants on behalf of our partner Finance in Motion representing Green for Growth Fund, which is an innovative public-private partnership fund dedicated to contribute to the mitigation of climate change through a reduction of greenhouse gas emissions.
The opening ceremony was followed by a discussion involving Matteo Patrone, the EBRD Director for Eastern Europe and the Caucasus, who emphasized how EBRD is helping the region to build low carbon and resilient economies. As the impact of climate change is felt across the globe, the need for sustainable development is becoming critical. Green financing is an essential tool to create conditions for sustainable development in the region.
On 12 March in frames of the forum CMS trainers the Banking, Finance and Energy practices delivered a dedicated masterclass on a topic "Are renewable energy projects bankable''.
During the two and a half hour masterclass the trainers covered topics related to sustainable finance, its principles, mechanics, benefits, risks, due diligence process and contracting issues. The speakers also shared best practices for RES project due diligence and covered the most common issues affecting the bankability of the projects across Eastern Europe, the Caucasus and Central Asia and best practices.
We would like to thank our sponsors, partners, speakers and participants who followed us both online and onsite in the wake of the coronavirus pandemic.