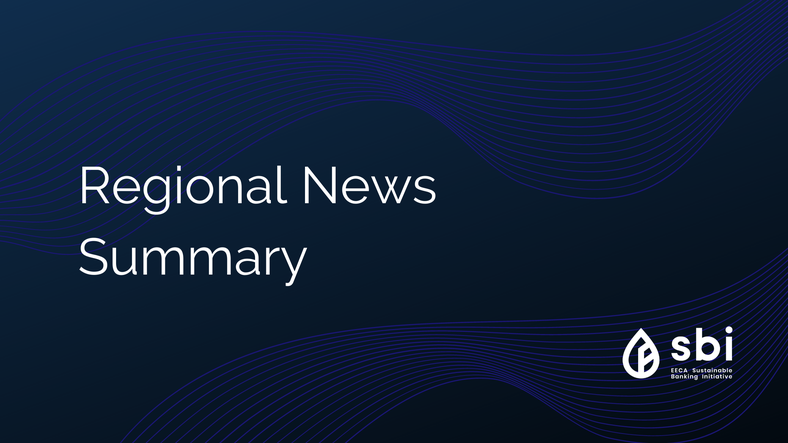 From current events and news to expert insights and interviews, we have summarised the latest regional news and articles that will help you keep up with recent developments in green finance.
Expert insights
Florian Meister from Finance in Motion speaks on the asset manager's growth journey and shares several recommendations for asset managers. Read the interview...
Ukraine
The National Bank of Ukraine created flexible conditions for debt restructuring for RES producers. The National Bank of Ukraine on July 18, 2020 adopted the Resolution "On Peculiarities of Fulfillment of Requirements of Certain Legislative Acts of the National Bank of Ukraine on Issues of Evaluation of Credit Risks". Read more...
Dynamics of renewable energy development in Ukraine. In the first half of 2020, the capacity of solar power plants, wind power plants, small hydropower plants and bio-power plants was installed more than in 2019, a total of 7123 MW compared to 6379 MW. From 2014 to 2018, a total of 6574 MW of RES capacity was installed. Read more...
New EFSE loan to Agroprosperis Bank supports Ukrainian farmers with EUR 5 million in UAH. The European Fund for Southeast Europe (EFSE) has provided a top-up local currency loan equivalent to EUR 5 million to Agroprosperis Bank in Ukraine for on-lending to agricultural enterprises.  Read more...
Armenia
Asian Development Bank and Armeconombank sign $15 million loan agreement to support women-led enterprises․ The Asian Development Bank and Armeconombank OJSC signed a $15 million loan agreement to increase lending to micro, small and medium-sized businesses owned by women in Armenia, especially in regions outside Yerevan. Read more...
FAO and Green Climate Fund partner for climate change adaptation and green growth in Armenia. The Green Climate Fund Board approved a project in Armenia, formulated with FAO support, to enhance climate change adaptation and mitigation, promote rural green growth, and increase the resilience of forests. Read more...
Andro Butkhuzi: GEFF continues support to banks during the lockdown. Read more...
Kazakhstan
Kazakhstan plans to convert solid waste to energy. As waste management issues have long become an everyday struggle, Central Asia's largest country is planning to launch the ''Waste-to-energy'' project to tackle the growing mountain of trash. Read more...
Uzbekistan
Triodos Microfinance Fund and German Development Finance Institution DEG have invested close to USD 25 million in Ipak Yuli Bank. Both investors acquired an equal minority stake in the share capital of the bank through an issuance of new shares. For both this represents their first equity investment in a bank in Uzbekistan.  Read more...
Georgia
Support through JICA-funded "LEAP" (Private Sector Investment Finance): Georgia's first green bond investment. The Asian Development Bank (ADB) announced an investment of $40 million in green bonds (*) in Georgia using the "Leading Asia's Private Infrastructure Fund" (LEAP) funded by JICA on July 17.  Read more...
Subordinated debt facility for Credo Bank in Georgia. Triodos Fair Share Fund and Triodos Microfinance Fund have provided a EUR 4 million subordinated debt facility to Credo Bank in Georgia. The facility will further enhance the capital and liquidity position of the bank and contribute to an efficient response to the COVID-19 pandemic. Read more...
Moldova
EFSE loans additional EUR 2 million to BT Leasing to expand access to financing for Moldovan entrepreneurs. The European Fund for Southeast Europe (EFSE) has provided a top-up loan of EUR 2 million to its partner BT Leasing to expand financing opportunities for micro and small enterprises (MSEs) in Moldova.  Read more...