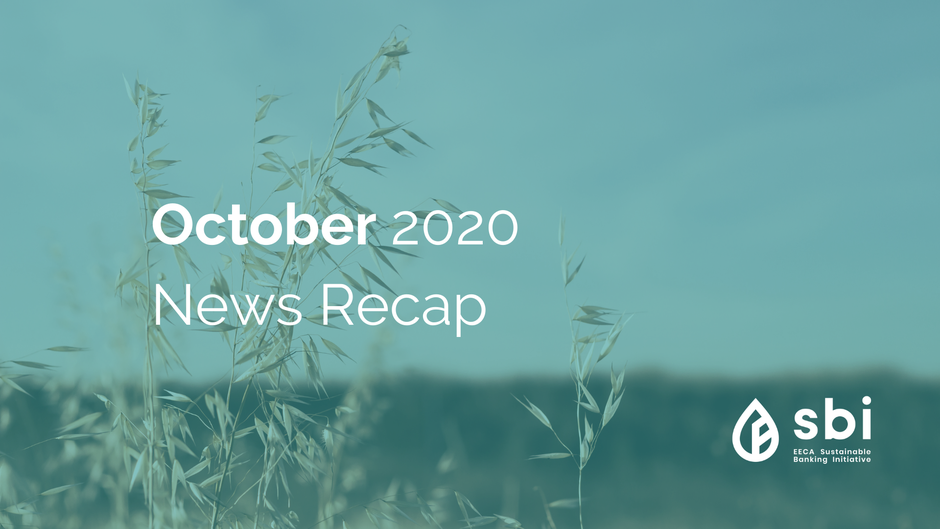 We bring to your attention the summary of the recent developments in green finance. Learn more about the relevant articles and insights from our October news recap.
How Europe Is Leading the Way in Reshaping Global Green Bonds
Europe plans to expand its green bond market after setting standards for green projects. Learn more... 
Embarking Armenian businesses and experts on the resource efficiency path
Armenian enterprises have already started focusing their production processes on environmentally friendly options, as the plastic ban will enter into force in 2022. Learn more... 
A 100-MW wind farm project to be launched in Kazakhstan with the EBRD, lender group co-financing
How the EBRD and CIF are driving investment in Kazakh renewables
Explore how Kazakhstan can respond to a sharp upswing in electricity demand and usage via growth in capacity and investments in the renewables sector. Learn more... 
Paving the way to energy efficiency in Georgia
A Georgian construction company reduced CO2 emissions from production by 62 tonnes per year through GEFF funding. Learn more...
EBRD, EU and multi-donor E5P-financed electric "green" buses arrive in Batumi
Georgia's city Batumi received new electric buses, which will benefit the environment and reduce carbon emissions, and the safety and availability of public transport will be ensured. Learn more...
Ukraine's Dnipro to improve energy efficiency of public buildings with EBRD loan
Ukrainian city of Dnipro will improve the energy efficiency of 100 buildings, including kindergartens, schools and outpatient clinics with a EUR 25 million loan by the European Bank for Reconstruction and Development.
EBRD and EU finance solid waste management in western Ukraine 
Ukrainian city of Khmelnitskyi and adjacent villages will modernise local solid waste management within the Green City Action Plan. The initiative, supported by the European Bank for Reconstruction and Development (EBRD) and the European Union (EU), aims to improve waste management, air quality and clean groundwater.
Facilitating green public investments in Moldova with a focus on clean urban public transport
Moldova to incentivize the private sector to invest in clean and socially important projects.
Offshore wind from the Black Sea can deliver the Green Deal for South East Europe
"Renewable energy, including offshore wind, has been identified as a promising opportunity to accelerate the low-carbon transition under the Next Generation EU recovery fund". Learn more...