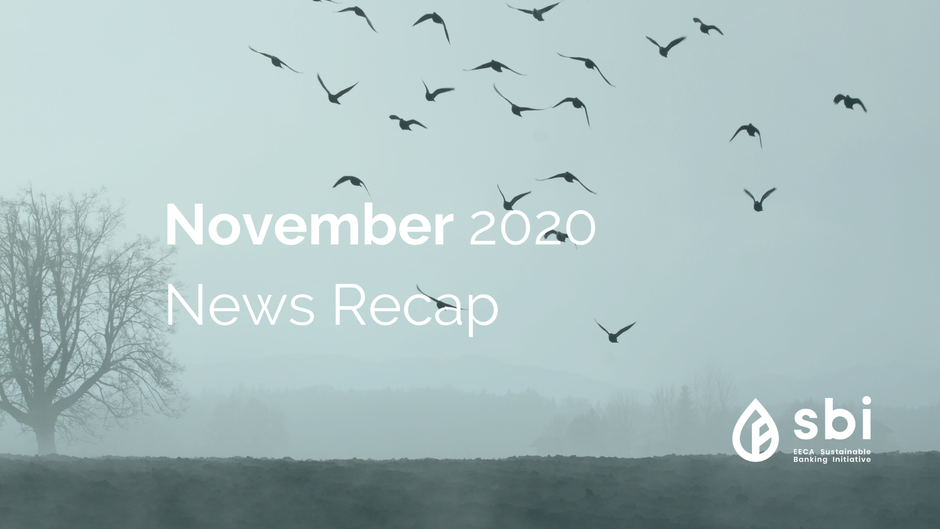 Consult our November news recap covering major updates on green economy and impact investments, sustainable projects in EECA countries and relevant news of green finance in the EECA region.
7 reasons why the green transformation is a chance for banks in CEE
SPOILER: reason N6 is especially relevant for those Central & Eastern European economies, which were affected by the Covid-19 pandemic. Learn more... 
Experts call for legal framework for factoring business in Ukraine
Factoring can help enhance the growth of smaller businesses in Ukraine amid the Covid-19 pandemic.
EBRD releases new funds to complete overhaul of Shymkent water utility
Refurbishment of water and wastewater facilities in Kazakhstan's Shymkent to be completed with the funds by EBRD. Before the utility has introduced an automated monitoring system for water and wastewater and carried out energy efficiency modernisation at 12 pumping stations and upgraded 11 electricity-powered substations.
Introducing environmentally friendly industrial parks in Belarus
As a part of the EU4Environment Project and using the International EIP Network, was implemented the assessment on a FEZ "Mogilev" industrial site and elaboration of the list of priority corrective actions for the transition towards an eco-industrial park. Learn more...
FMO supports Ameriabank in successfully placing its first ever Green Bond
First ever Green Bond Project in Armenia - the debut Green Bond issued in EUR for the equivalent of USD 50 million. The Green Bond is structured in accordance with internationally recognized ICMA Green Bond Principles (the GBP). Learn more...
Symbiotics and Armenocombank issued first Sustainability Bond in Armenia in Armenian currency
First Sustainability Bond launched in Armenia via #Symbiotics sponsored bond issuance platform by raising USD 10,700,000 in Armenian currency for ARMECONOMBANK OJSC ("AEB"). Learn more...
Emerging economies at crossroads as state role set to grow in wake of Covid-19
Read an interesting piece about the challenges and prospects, which emerging economies face amid the pandemic. "In the short term, the EBRD regions have to build a transition to a green economy into post-Covid-19 recovery plans. In the medium term, the state must address the market and policy failures that are impeding the transition to a green economy, with an emphasis on effective carbon-pricing strategies". Learn more...
EBRD and EU advance honey producer's development in Moldova
A honey producing company from Moldova increased the volume and efficiency of making production as a result of investing in modern and green technologies. Learn more...
IFC estimates Ukraine's potential for issuing green bonds at $ 73 billion by 2030 – Energy Ministry
Creation of the Climate Fund in Ukraine
Ukraine is to launch the Ukrainian Climate Fund (UCF), which will be a separate legal entity accumulating all environmental taxes and invest them in environmental measures. Learn more... 
What is green finance and why is it important
Did you know that the green bond market could be worth $2.36 trillion by 2023? Learn more...
Kazakhstan forges ahead with Renewable Energy
Kazakhstan marks a significant decarbonisation milestone with a construction of the Zhanatas 100 MW wind farm in southern Kazakhstan, which will help to move from the country's coal legacy. Learn more...
EU4Environment helps entrepreneurs in Moldova become greener and reduce costs
SME's in Moldova will be provided with a clear information on how to increase the competitiveness and reduce costs via improving their resource efficiency and environmental performance. Learn more...