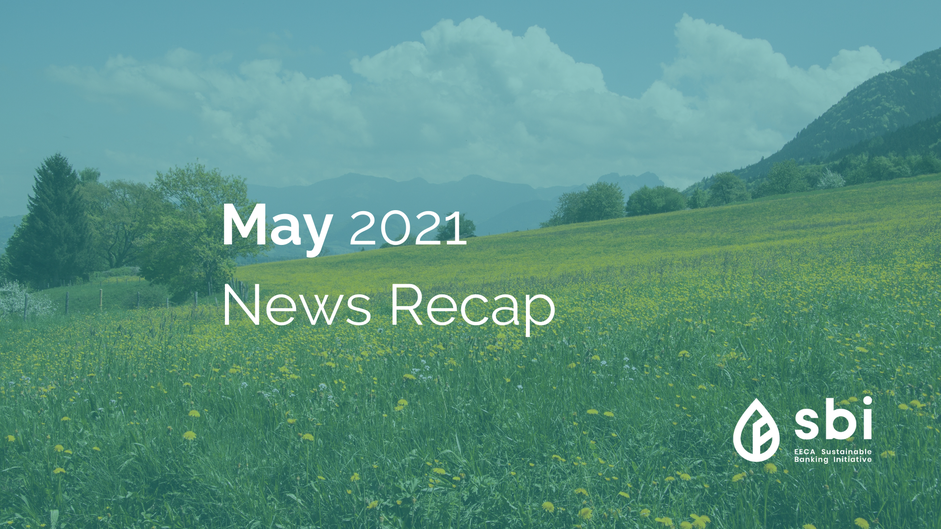 Check May 2021 monthly highlights about sustainable finance and green investments in the EECA countries.
Sustainable Finance and EU Taxonomy: Commission takes further steps to channel money towards sustainable activities
The European Commission has recently adopted a package aiming to improve the flow of money towards sustainable activities across the European Union. This package will help investors to re-orient investments towards more sustainable technologies and businesses and will be instrumental in making Europe climate neutral by 2050. Learn more... 
New trolleybuses hit the road in Balti, Moldova
The municipal trolleybus company of Balti has received a EUR 2.5 million European Bank for Reconstruction and Development (EBRD) loan and a €1.2 million grant from the #E5P, to promote greener public transport. Learn more... 
BSTDB Approves Climate Change Strategy
New Climate Change Strategy approved by the Black Sea Trade & Development Bank (BSTDB) represents the vision and approach to addressing climate change over the next ten-year period and beyond. Learn more...
IFC Partners with National Bank of Ukraine to Help Boost Sustainable Finance, Support Low-carbon Economic Growth
International Finance Corporation will help the National Bank of Ukraine develop a roadmap of policy actions to introduce sustainable finance in Ukraine, with a focus on green financing and other sustainable solutions in line with the #EUGreenDeal and the EU Green Bond Standards. Learn more...
EBRD and donors organise US$4 million package to Arvand Bank in Tajikistan
US$ 4 million package to Arvand Bank will be provided by European Bank for Reconstruction and Development (EBRD) and Green Climate Fund for the support of small private-sector companies in Tajikistan to boost investments in green technology solutions and to create new opportunities for women-led small businesses. Learn more...
Central Asia courts green energy investors
"It sounds like a cliché that one might hear about many places in the world, but Central Asia's potential for renewable energy is truly huge and underutilized," Indra Overland of the Norwegian Institute of International Affairs (NUPI) told Eurasianet. Learn more...
EBRD and EU support small businesses in Ukraine via Crédit Agricole
At least 70% of EUR 25 million loan provided to the Credit Agricole Ukraine by the EBRD to be dedicated to financing green technologies, in line with the EBRD's Green Economy Transition (GET) approach. Learn more...
Europe Should Keep Its Green Bar High, Even If Many Can't Meet It
"...the [EU] taxonomy's purpose is to set a very high bar based on what scientists have worked out is needed for us to avoid the worst effects of climate change." Learn more...
As Impact Investing Grows, So Do Expectations
"There was a real question a year ago whether impact investing was a nice-to-have that would fall by the wayside when confronted with real questions, precipitated by an economic and health crisis," said Margot Brandenburg, senior program officer at the Ford Foundation. "As of now, it's safe to say that impact investing [...] is really increasingly being described as a need-to-have." Learn more...
Kazakhstan entered the Global Green Finance Index being № 1 in Eastern Europe & Central Asian region
"Entering the GGFI index, moreover, being on the first line among Eastern Europe and Central Asia, is an important indicator for AIFC meaning that the financial centre is moving in the right direction. The financial system and country's economy are systematically moving towards sustainable development, and the AIFC will continue to promote progress in this direction," said Astana International Financial Centre - AIFC Governor Kairat Kelimbetov. Learn more...
Armenia: EIB and multi-donor fund E5P support energy efficiency refurbishment of kindergartens in Yerevan
Six additional kindergartens in Armenia's capital Yerevan will be undergoing deep renovation including seismic strengthening and energy efficiency measures co-funded by a loan from the European Investment Bank guaranteed by the European Union, a grant from the Eastern Europe Energy Efficiency and Environment Partnership Fund - E5P, a technical assistance grant from the Green Climate Fund and own funds of the Municipality of Yerevan. Learn more...
EU green finance rules must be politically sustainable
The EU will need EUR 1tn of sustainable investment over the next decade to become the world's first climate-neutral bloc by 2050. "This cannot come from the public sector alone. Private investors must be involved, but to do that they need to know where to put their money, and what greenwashing dodges to avoid." Learn more...
EU green finance rules must be politically sustainable
Damu Fund received a prestigious international award for issuing the debut "green" bond in Kazakhstan. Learn more...
EBRD and JICA to cooperate on projects across three continents
Among other activities envisaged by the previous EBRD - JICA agreement the accord builds on cooperating on renewable energy projects in the Caucasus, Central Asia, Europe and North Africa; promoting environmental conservation and mitigation and adaptation to global climate change; improving the investment climate and private sector development in sustainable energy and infrastructure sectors etc. Learn more...
The National Energy and Utilities Regulatory Commission of Ukraine (NEURC) approves feed-in tariff for EuroCape wind power plant of 98 MW
The National Energy and Utilities Regulatory Commission of Ukraine (NEURC) has set a feed-in tariff for the first stage of a wind power plant of Eurocape Ukraine I LLC (Zaporizhia region) with a capacity of 98.01 MW in the amount of 8.82 eurocents per kWh. According to the decision adopted at the meeting on April 22, the tariff is valid until January 1, 2030. Learn more...
Symbiotics launches the first Sustainability Bond in Georgia with Crystal for USD 5 million in local currency equivalent

The proceeds of the Sustainability Bond will be used to finance both Social and Green eligible loans. Learn more...
Asian Development Bank to end coal, oil and gas financing
"The draft coal ban policy is a decade late, but it still helps build the economic case for the energy transition to governments and investors, and will help avoid more stranded coal assets," said Pedro H. Maniego Jr., senior policy adviser at the Institute for Climate and Sustainable Cities. Learn more...
ACWA Power seals deal to build 1.5-GW wind farm in Uzbekistan
ACWA Power  has signed an implementation agreement in relation to a 1.5 GW wind project in Uzbekistan, the country's largest project of its kind. The project is to contribute to the implementation of the national renewable energy target of achieving 25% of the total renewable power generation capacity by 2030. Learn more...
EBRD- and EU-backed fund invests in Armenia's renewable energy sector
Private equity fund Amber Capital with the support of the EBRD and the #EU, has acquired an Armenian solar plant operator to build and operate a 4 MW photovoltaic (PV) solar power plant in Aragatsotn region. The facility is expected to be operational by the end of 2021 and generate 7.5 GWH of clean energy per year, resulting in 3,200 tonnes of avoided CO2 emissions annually. The power plant will contribute to Armenia's green recovery and create around 50 jobs in construction and plant operations. Learn more...
The UWEA Member Company EuroCape Ukraine I has commissioned Phase I of onshore Zaporizhia Wind Park
The wind farm will sell its power through a Power Purchase Agreement with the Ukrainian state enterprise Guaranteed Buyer at a set Feed-in Tariff. Upon full completion of up to a total of 500MW, the project is expected to be one of the largest onshore wind farms in Ukraine, powering approximately 780,000 homes and offsetting 4,860,000 tons of carbon emissions per year. Learn more...
EBRD, EIB and PROPARCO provide €87.4 million for construction of Total Eren's solar power plant in Uzbekistan
Uzbekistan to construct a 100 MW solar plant near the city of Samarkand within one of the country's first private-sector renewable energy projects. EBRD , European Investment Bank and PROPARCO provide EUR 87.4 mln financial package to support Uzbekistan's plans to develop 8 GW of solar and wind capacity by 2030. Learn more...
Masdar places lowest bid in 200-MW solar tender in Uzbekistan
Masdar (Abu Dhabi Future Energy Company) placed lowest bid to facilitate the construction of a solar PV plant of ~200 MW in the Sherabad district of Uzbekistan. Learn more...