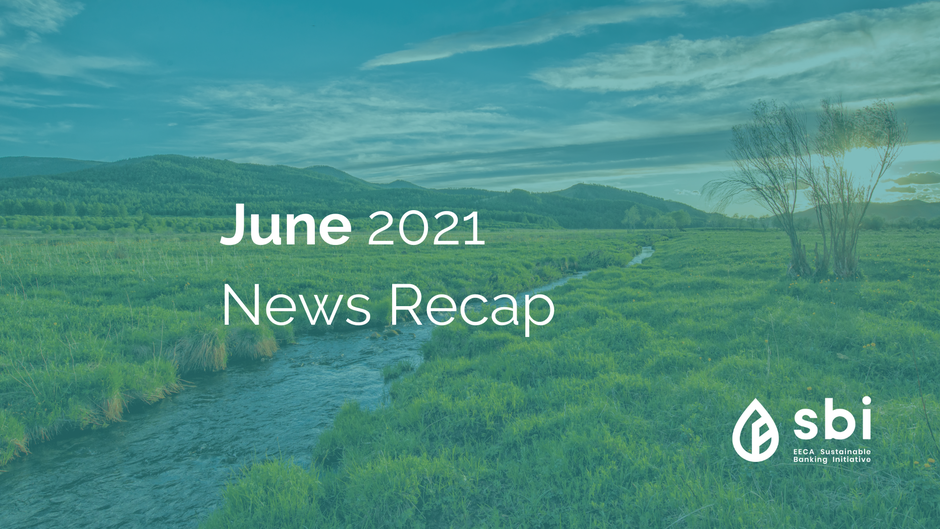 Learn more about the sustainable finance June 2021 news in our monthly highlights recap.
Financing clean energy transitions in emerging and developing economies
Masdar bags 400 MW in Uzbek solar tender awards
Uzbekistan's Ministry of Energy has lately announced that Masdar made the lowest bids for the construction of two photovoltaic (PV) parks in the Jizzakh and Samarkand regions with the capacity of 200 MW each. Learn more... 
DTEK inaugurates Ukraine's 1st industrial energy storage system
Ukraine's pilot industrial energy storage system project has been recently launched by the DTEK. The project aims to make storage systems a key part of the energy market in Ukraine, while also helping with the #decarbonisation in Eastern Europe, the company stated. Learn more...
PROPARCO subscribes to a social and green bond issued by Symbiotics
PROPARCO has recently made a USD 5 mln subscription to a USD 14.5 mln Sustainability Bond arranged by Symbiotics for AraratBank  to support SMEs, microenterprises and green projects in Armenia. Learn more...
FMO takes important step in its Climate Action (SDG13) commitment
In its recent Position Statement FMO Dutch entrepreneurial development bank announced that it will no longer invest directly in upstream or mid-stream stand-alone fossil fuel-related activities. The bank will actively seek investment opportunities that support the transition to a low-carbon system. Learn more...
EBRD and GCF to boost climate action with new US$ 1 billion programme
USD 1 billion facility by European Bank for Reconstruction and Development and Green Climate Fund will support the corporates in Armenia, Jordan, Kazakhstan, Morocco, Serbia, Tunisia and Uzbekistan in formulating a low-carbon pathway, along with a concrete action plan of realistic investment and a strategic review of their business model as part of their corporate climate governance undertakings. The programme is expected to reduce emissions by 17.2 million tCO2 over a 20-year asset lifetime. Learn more...
Why clean energy transitions must be for the many, not the few
Clean energy investments in developing countries must be increased sevenfold to meet the Paris targets. The global challenge of climate change demands global solutions: the international community has to ensure that all countries have the support they need to move forward in this critical endeavour. Learn more...
How can more women power the transition to green industry?
"Closing the gender gap in the world of work is a key to accelerating sustainable economic growth. It has been shown that women's economic empowerment increases productivity and economic diversification. Moreover, the gender gaps in entrepreneurship cause an average income loss of 6% in the OECD and more substantially significant losses in developing countries." Learn more...
EBRD invests US$ 50 million in green bond in Georgia
European Bank for Reconstruction and Development (EBRD) has invested USD 50 million in the first #greenbond issued by the state-owned national Georgian Railway. The bond total volume is USD 500 million with a 7-year maturity. Priced on 10 June, the bond will be traded on the London Stock Exchange. Learn more...
ADB Invests $20 Million in Georgian Railway Green Bonds to Modernize Rail Network
Asian Development Bank  has invested USD 20 million in green bonds, issued by Georgian Railway. The proceeds will be used principally within an ongoing modernization project to better present railroads. Learn more...
EUEA received an official letter from NEFCO (Nordic Environment Finance Corporation) in which the international financial institution expressed its disappointment with Ukraine's energy policy regarding the following issues... Learn more...
EBRD provides US$ 45 million to major lender in Uzbekistan
European Bank for Reconstruction and Development (EBRD) dispenses USD 25 million #GEFF loan to country's second-largest lender SANOAT QURILISH BANK (Uzpromstroybank). Another USD 20 million risk-sharing facility will be provided to Uzpromstroybank to promote private sector lending. Learn more...
DTEK orders more Vestas turbines for 500-MW wind project in Ukraine
The DTEK Renewables has ordered 62 units of the V162-6.0MW turbine from the Vestas Wind Systems for the second phase of the 500-MW DTEK Tiligul wind project in Ukraine. Learn more...
EBRD provides US$ 60 million to Kazakhstan's Bank CenterCredit
The European Bank for Reconstruction and Development boosts green financing, lending to MSME's and women entrepreneurs in Kazakhstan by providing a loan package of USD 60 million in Kazakh Tenge equivalent to the country's leading lender Bank CenterCredit. Learn more...
The challenges of ditching coal on the steppe
The coal is often the reason for the filthy air in Almaty and Bishkek, which has been well-documented and has become the subject of rising concern among residents. Yet in both Kazakhstan and Kyrgyzstan, even when gas is available, a switch to it requires expensive investments in infrastructure, a connection to the grid, a gas-fired boiler. Learn more...
Additional Financing Support by the Green Climate Fund to Help Strengthen Climate Resilience in Central Asia
World Bank approved additional financing totaling USD 19 million for the Climate Adaptation and Mitigation Program for Aral Sea Basin (CAMP4ASB) project, the first to be funded by Green Climate Fund  in Central Asia. Learn more... 
Ukraine: The EU NIP and the E5P Fund join the EIB in supporting Ukraine's public buildings energy efficiency
EUR 5 million TA grant from the EU Neighbourhood Investment Platform and a EUR 4 million grant from the Eastern Europe Energy Efficiency and Environment Partnership Fund - E5P will facilitate the proper preparation and implementation of an earlier EUR 300 million European Investment Bank framework loan aimed at increasing energy efficiency and saving more than 1 million tonnes of CO2 and benefit 2.5 million Ukrainians. Learn more...
EBRD and ADB support sustainable energy supply in Tajikistan
Within the project financed by European Bank for Reconstruction and Development (EBRD) and Asian Development Bank Tajikistan's Shabakahoi Taksimoti Bark (STB), a state-owned power utility responsible for electricity distribution is expected to reduce power losses by around 30 GWh and cut CO2 emissions by almost 2,000 tonnes annually. Learn more...
Kazakhstan unlikely to meet Paris commitments
196 signatories of the Paris Agreement are expected to limit #globalwarming to less than 2 °C by reducing their emissions of #greenhousegases. Kazakhstan – the world's tenth-largest source of such planet-warming gases per capita – pledged to reduce emissions by at least 15% by 2030 compared to 1990. 6 years since the landmark Paris Agreement on climate change, Kazakhstan appears unlikely to fulfill its promise. Learn more...
Advancing resource efficiency in Belarus
Resource Efficiency Experts monitor audits of the Belarusian enterprises, important data are collected on the product output and on the consumption of fuel, energy, raw materials, and supplies of each company. RECP in Belarus works with the UNIDO under the #EU4Environment Action to improve the environmental well-being of the people & preserve the country's natural capital. Learn more...
EBRD, EU, GCF expand funding for SMEs in Armenia
European Bank for Reconstruction and Development, EU and Green Climate Fund expand funding for SMEs in Armenia. The package is being provided to Acba Bank OJSC  under the EBRD's Green Economy Financing Facility (GEFF) programme and the EU4Business-EBRD credit line with incentives for on-lending to local enterprises for investments in climate change mitigation and adaptation as well as for upgrading technologies and services to EU standards while promoting the use of green technologies. Learn more...
World's Largest Green Hydrogen Plan to Tap 45 GW of Wind And Solar in Kazakhstan
Svevind Energу GmbH signed a memorandum of understanding with Kazakh Invest National Company (Invest Kazakhstan) with the aim of developing 45GW of wind and solar to feed #greenhydrogen production in Kazakhstan. The projects would be built mainly in the steppe areas in Western and Central Kazakhstan for 30GW of electrolysers to produce about 3 million tonnes of green hydrogen a year. Learn more...
Support is key to helping EBRD partner financial institutions deal with climate risk, survey shows
"Support by international partners and the regulatory framework will be key to helping financial sector to recognize and manage financial risks associated with climate change. Only 43% of the European Bank for Reconstruction and Development survey respondents consider impact of their portfolio on climate change as a potential source of risk."  Learn more...