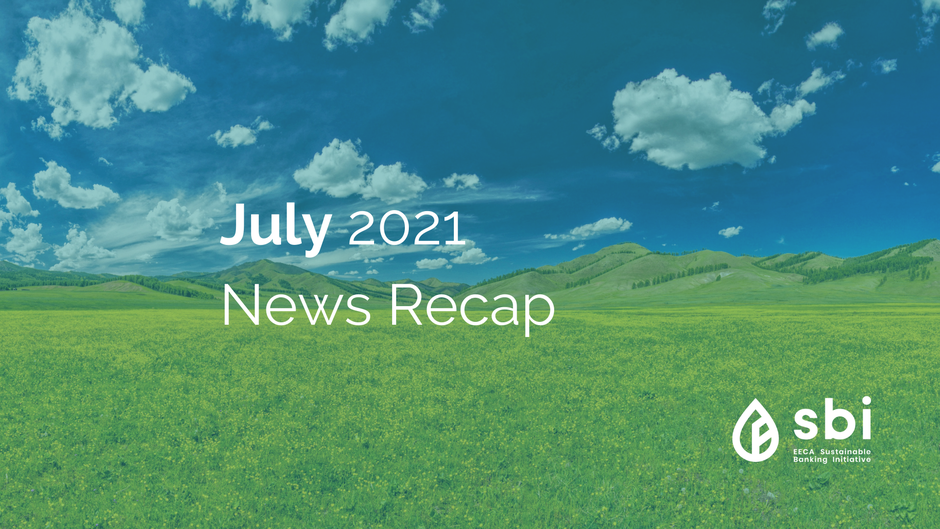 Explore the July 2021 news and developments in sustainable finance within the EECA with our monthly highlights.
High Time for Sustainable Finance in Armenia - SBInterview with Armswissbank
"Now more than ever financial institutions should consider positive and negative social and environmental factors of projects". Deputy Head of Lending Department of the Armswissbank answers our questions about current trends and challenges of sustainable, inclusive and ESG finance in Armenia. Read the interview...
Scatec starts commercial operation of its 148 MW solar plant in Ukraine
The 148 MW Progressovka plant is in the Mykolayiv region. Learn more...
European Commission Launches New Sustainable Finance Strategy
The measures adopted by the European Commission include a new Sustainable Finance Strategy, proposed regulations on a voluntary European Green Bond Standard (EUGBS), and specifications regarding #sustainabilityinformation to be disclosed by companies under the EU Taxonomy. The proposals highlight transition finance as a key goal of the EU sustainable finance agenda, and recognize the importance of #internationalcooperation in meeting sustainability goals. Learn more...
Scatec starts commercial operation of 55 MW in Ukraine
Scatec Ukraine starts commercial operation of 55 MW Chigirin project in the Cherkasy region, which is realised under Ukraine's Feed-in-Tariff scheme and is expected to deliver about 64 GWh per year. The solar plant has a design life of more than 30 years and will be providing clean energy to more than 28,000 households annually. Learn more...
EBRD supports solid waste management in Tbilisi
The European Bank for Reconstruction and Development extends a EUR 3.03 million sovereign loan to the Municipality of Tbilisi City for the upgrade of the leachate system at the city's solid waste landfill. The project is part of the #GreenCities Framework 2. Learn more...
5th solar power plant officially opened in Ukraine
Scatec opens 5th solar power plant in Ukraine. According to Scatec the 3 pillars for providing competitive and sustainable #renewableenergy are: constant monitoring of the impact on the environmental and social aspects, trust in business partners and promoting local change for the better. Learn more...
Masdar secures deal to develop 'Armenia's biggest utility scale solar project'
Armenia's largest utility-scale solar project so far will be implemented by the UAE-based developer Masdar, which has won a bid to develop a 200MW #solarfarm in Armenia's Talin and Dashtadem communities with an investment of USD 174 million. Built over 500 hectares, the plant is one part of a joint "Joint Development Agreement" signed by Masdar and Armenian National Interests Fund  in November 2019 to develop 400MW of energy capacity in Armenia. Learn more...
TBC Bank receives accreditation by Green Climate Fund
The Green Climate Fund accreditation received by the TBC - the first commercial bank from the South Caucasus that acquired such status - will enable the bank to have direct access to GCF funding to finance projects for climate change adaptation and mitigation and play a leading role in supporting sustainable development in Georgia. Learn more...
Masdar, Uzbek govt sign deals for 440 MW of solar projects
Renewables developer Masdar announced signed investment and power purchase agreements for a couple of solar projects in Uzbekistan totalling 440 MW. Masdar expects to invest a total of USD 300 million in the 2 projects. Commercial operation for both is projected for the first quarter of 2023. Learn more...
EBRD, EU provide fresh funds for Ukrainian MSMEs via ProCredit Bank
New EBRD EUR 25 million equivalent loan with almost 70% of the funds allocated to financing green technologies in Ukraine is provided to ProCredit Bank Ukraine to boost its lending to micro, small and medium-sized business (MSMEs) in the country. Learn more...
Kazakhstan Unveils Ambitious Green-Hydrogen Project
Kazakhstan aims to build the world's largest green hydrogen project, which can largely contribute to the country's success in meeting Nur-Sultan's clean-energy promises. Last month Swedish-German renewables firm Svevind AB and Kazakh Invest National Company signed a memorandum and announced about the plans for developing 45 GW of wind and solar capacity in central and western Kazakhstan. In this case, it is expected that two-thirds of the solar and wind output would be used to power electrolyzers that would create about 3mn tons of hydrogen per year from water. Learn more...
EBRD promotes renewables development in Uzbekistan 
Uzbekistan plans to focus on the development of low-carbon energy sources including solar, hydro and wind energy. During recent international roundtable organised by the EBRD, The World Bank and Uzbekistan's government discussed country's energy transformation as Tashkent aims to reduce greenhouse gas emissions and eventually achieve carbon neutrality of the domestic energy sector by 2050. Learn more...
Creating Carbon-Negative 'Green' Hydrogen to Fuel Our World
University of Canterbury Chemical and Process Engineering academics Professor Shusheng Pang and Associate Professor Alex Yip are focusing on using renewable biomass – such as tree and plant waste from New Zealand's forestry and agriculture sectors – to make green hydrogen. This clean energy source can be used to replace fossil fuels, including coal and natural gas, for transport, industry use, and heating our homes. Learn more...
EU unveils sweeping climate change plan
"The measures, billed as the EU's most ambitious plan yet to tackle climate change, have been named the Fit for 55 package because they would put the bloc on track to meet its 2030 goal of reducing emissions by 55% from 1990 levels. By 2019, the EU had cut its emissions by 24% from 1990 levels". Learn more...