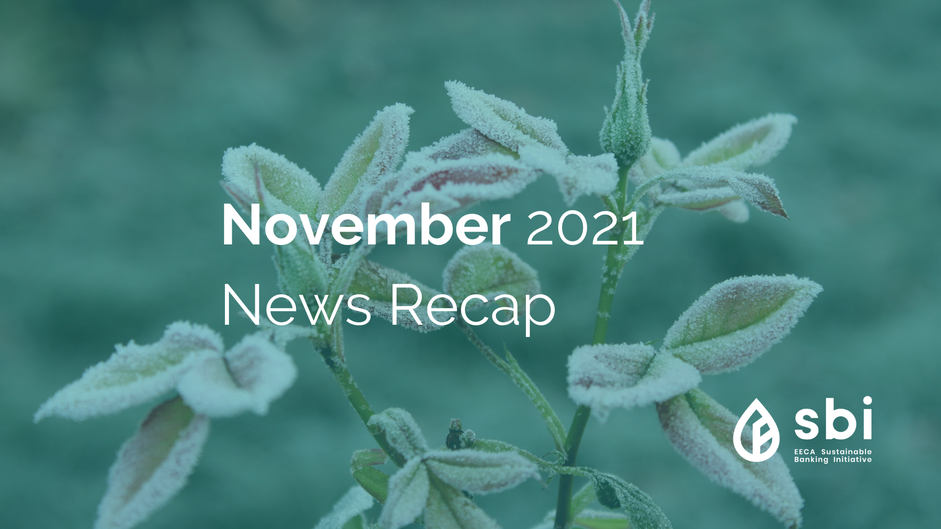 Read the recent news about sustainable finance and green investing in the EECA region in our November highlights.
SBInterview with TBC Bank
In our interview with TBC Bank — the largest bank in Georgia and the first one to receive Green Climate Fund accreditation in South Caucasus, we discussed the questions about the specifics of the sustainable finance market and environmental and social risk management in Georgia, as well as the perspectives of the green finance development in the region. Read the interview...
SBArticle: What EECA Countries Pledged to Contribute to COP26 Glasgow 2021 Goals?
The EECA countries participated in the 26th United Nations Climate Change Conference in Glasgow from late October to November 12. In this article, we reflect on the pledges and work done by EECA region countries in terms of contributing to global sustainability. Read the article...
EBRD, EU boost Ukrainian small business funding via Bank Lviv
At least 50% of the local-currency loan extended by the European Bank for Reconstruction and Development (EBRD)  to the Bank Lviv will be dedicated to supporting projects that promote environmental goals. The EUR 10 million loan aims at facilitating access to finance for Ukrainian MSME's. Learn more...
Official Signing of the Cooperation Agreement between Financial Inclusion Organization Crystal and GIZ
Cooperation between Financial Inclusion Organization Crystal and GIZ is to enable the implementation of Georgia's forest sector reform. Learn more...
Total Eren to lead on 1GW wind-plus-storage in Kazakhstan
Cooperation between Financial Inclusion Organization Crystal and GIZ is to enable the implementation of Georgia's forest sector reform. Learn more...
Ukrenergo has successfully priced a debut 5-year Green and Sustainability-linked Eurobond
5-year Green and Sustainability-Linked Eurobond for a USD 825 million size at 6.875% yield is the largest debut international bond offering ever done by a Ukrainian non-sovereign issuer and the largest green Eurobond so far in the CIS region. Learn more...
The EDB offers a debut three-year issue of social bonds for KZT 20 billion
The Eurasian Development Bank (Евразийский банк развития) has successfully placed its debut three-year social bonds for a total of KZT 20 billion, with a coupon of 10.6%. The issue was offered on KASE - Kazakhstan Stock Exchange and Astana International Exchange - AIX. The arranger of the issue is Halyk global Markets. Learn more...
Ukraine: EIB and E5P provide further support for refurbishment of Ukrainian hospitals
Investment grant agreement was signed by the European Investment Bank and the Мінрегіон  Ministry of Communities and Territories Development of Ukraine signed to facilitate the implementation of Ukraine's Public Buildings Energy Efficiency project (UPBEE) and contribute to much-needed energy-efficiency efforts in the healthcare sector. Learn more...
€101 Million ADB Loan to Improve Livability and Boost Regional Development in Georgia
Asian Development Bank Director General for Central and West Asia Yevgeniy Zhukov noted that the project will support Georgia's recovery from the #pandemic and help make its cities more livable, inclusive, and climate resilient. Learn more...
The EDB signs a trilateral memorandum of understanding with the AIFC Green Finance Centre and Novostal-M
Trilateral MoU was signed by Eurasian Development Bank / Евразийский банк развития, Astana International Financial Centre - AIFC GFC and Novostal-M. Parties agreed to implement joint #sustainable and #greenfinance projects and initiatives. Learn more...
EFSE and Moldova-Agroindbank join forces to channel financing for MSMEs
A 7-year subordinated loan facility in Moldovan lei equivalent to EUR 15 million provided by the European Fund for Southeast Europe (EFSE) to Moldova Agroindbank will contribute primarily to UN Sustainable Development Goals — SDG8 (Decent work and economic growth) and SDG9 (Industry, Innovation and Infrastructure). This investment will help MSME's in Moldova increase competitiveness and resilience. Learn more...
Earmarked for high impact green loans in Kyrgyzstan
KGS 212 million (USD 2.5 million) loan will be provided for developing and enhancing green loan offering in Kyrgyzstan. Triodos Emerging Markets Renewable Energy Fund and Triodos Groenfonds provide their first green credit line to a microcredit institution in Kyrgyzstan — Bailyk Finance. Learn more...
Kazakhstan and Tajikistan to Cooperate as Part of Green Bridge Partnership Program to Promote Climate Policies in Central Asian Region
Kazakhstan and Tajikistan signed the Charter of the Green Bridge Partnership Program on November 2 at the Central Asian pavilion as part of COP26  - UN Climate Change Conference of the Parties to the UN Framework Convention on Climate Change (COP26) in Glasgow. Learn more...
USD 30 million OPEC Fund loan to Ameriabank to promote sustainable energy and support small businesses in Armenia
Half of the loan will be dedicated to supporting green projects, increasing energy efficiency and reducing carbon emissions in Armenia. The financing is in line with the partners' commitment to UN Sustainable Development Goals, particularly SDG7 (Affordable and Clean Energy), and SDG8 (Decent Work and Economic Growth). Learn more...