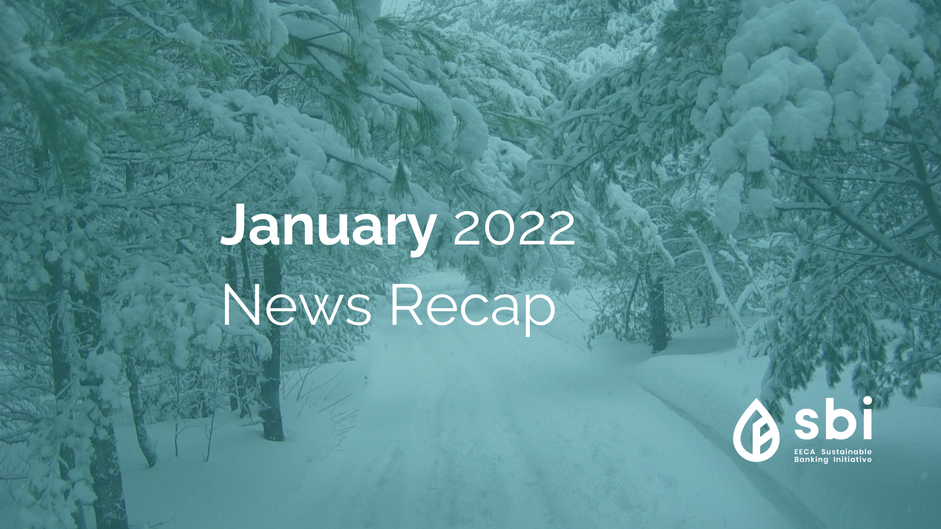 Read the first monthly highlights of 2022 to learn about the developments in sustainable finance and green transition in the EECA region.
Report: Carbon Credit Market and its Presence in the EECA
In this report, we present one of the most trending topics of the sustainable development agenda currently both on global and regional levels. Learn about the global efforts, largest markets and specifics of the carbon credit market in EECA by accessing our below report. Download the report...
FMO and Ipak Yuli Bank sign a Loan Agreement for USD 50 mln to support Uzbekistan's private sector
Ipak Yuli Bank raised USD 50 mln in credit funds from the Dutch entrepreneurial development bank (FMO) for the development of small and medium-sized businesses (SMEs) in Uzbekistan.
The approved loan facility is provided in multicurrency form, meaning that credit resources can be attracted both in USD and in national currency. Learn more... 
Georgia Capital selling part of water utility biz to get funds for renewables
Georgia Capital has agreed to sell an 80% stake in its water utility business in Georgia to refinance the renewable energy operations.  Learn more...
Uzbekistan launches tender for 300-MW solar project
"Uzbekistan has issued a Request for Qualification as part of a tender looking for to award an approximately 300-MW solar project in the country's southeastern area of Kashkadarya."  Learn more... 
Impact Bond Issuance Tops $1 Trillion in 2021 as 'Greenium' Expands: ICE
By bond type, green bonds continued to dominate the market, with issuance more than doubling year-over-year to reach $583 billion, up 138%. Sustainable bonds grew 28% to reach $228 billion, and social bond growth was 39% following an explosive year in 2020, reaching $225 billion. Learn more... 
Launch of Green Growth Indicators report and web platform in the Republic of Moldova
It is the second monitoring report that uses OECD green growth indicators in the Republic of Moldova and the first evaluation of the implementation of the Programme on the Promotion of Green Economy in the Republic of Moldova and its Action Plan 2018-20, using green growth indicators. The findings of the analysis will help the development of a new Programme on the Promotion of Green Economy of Moldova for 2022-27 and the new Environmental Strategy 2030. Learn more...
EBRD, EU and EIB help improve solid waste management in Osh
The project is expected to bring major environmental relief and upgrade the municipal waste collection services for more than 370,000 local residents. The funds will also allow the municipal waste management company to procure waste containers, modernise waste collection points and build a new sanitary landfill. Learn more...