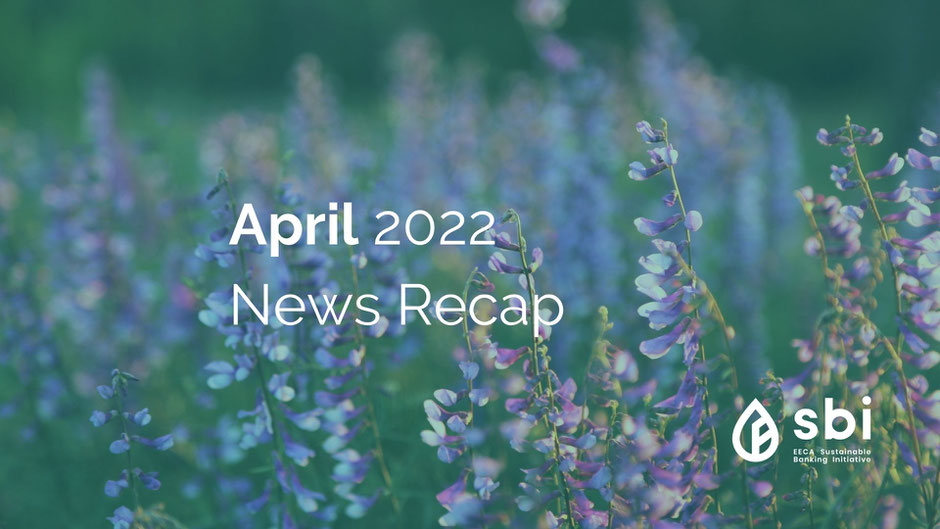 Read the news highlights for April 2022.
EBRD, EU and KfW promote energy efficiency in Georgia
A EUR 40 million EBRD loan and a EUR 13 million grant from the EU will be used to overall energy security and environmental protection in Georgia. In its turn, KfW will also prove additional financing.  Learn more... 
Masdar eyes up to 1 GW of new renewable projects in Kyrgyzstan
Renewable energy company Masdar (Abu Dhabi Future Energy Company) will seek to invest in the development of up to 1 GW of renewable energy projects in Kyrgyzstan under the pact with the country's government. This investment is expected to back Kyrgyzstan in achieving its goal for a 44% reduction of its carbon dioxide emissions by 2030 and carbon neutrality by 2050. Learn more...
EU Council Agrees to Move Ahead with Creation of European Green Bond Rules
Following the agreement in the EU Council, negotiations will begin with the EU Parliament to draft a final version of the European Green Bond text. Learn more...
Global sustainable bond issuance takes Q1 hit on Ukraine crisis
"Total issuance of green, social and #sustainabilitybonds, as well as those issued by companies with a sustainable business model, such as #renewableenergy, totalled USD 231.7 billion in the first quarter of 2022, a 19% drop over last year". Learn more...
'Lion's share' of global power additions in 2021 were renewables
Data released by the International Renewable Energy Agency (IRENA) shows that renewable energy continued to grow and gain momentum in 2021 despite global uncertainties, with global renewable generation capacity reaching 3.064 TW, increasing by 9.1%. Learn more...
The NBG published sustainable finance taxonomy for public consultations
The National Bank of Georgia is also currently working on the Regulation on Loan Classification and Reporting according to the Sustainable Finance Taxonomy (Taxonomy Regulation) to be adopted in the near future. Learn more...
How tracking fossil-fuel subsidies could help secure more resources for the green energy transition?
The debate on fossil-fuel subsidies was gaining significant momentum over the past ten years. Governments are now better informed about the potentially negative fiscal, social, environmental and climate-related impacts of such subsidies on the economy. Learn more...
IFC, Uzbekistan Partner to Develop Wind Power Projects
International Finance Corporation will advise Uzbekistan as it structures a public-private partnership to mobilize private sector experience and capital to construct and operate up to 500 MW wind power plants across the country. The project will help Tashkent reach its target of generating 25% of its electricity from renewable sources by 2026. Learn more...
Multilateral development banks discuss COVID recovery, climate action, energy, food security and wide-ranging repercussions of war in Ukraine
The meeting of the heads of 12 multilateral development banks, chaired by Werner Hoyer, President of the European Investment Bank (EIB), was held to discuss MDBs' role in tackling current global crises, from the fallout of the war in Ukraine to recovery from the pandemic and climate change. Learn more...
AFD supports Uzbekistan green economy transition
The first loan agreement for EUR 150 million within the cooperation between Uzbekistan and Agence Française de Développement was signed on April 19th. The collaboration is to help prepare and finance measures that put emphasis on green economy, preserving the environment in Uzbekistan and adapting climate change. Learn more...