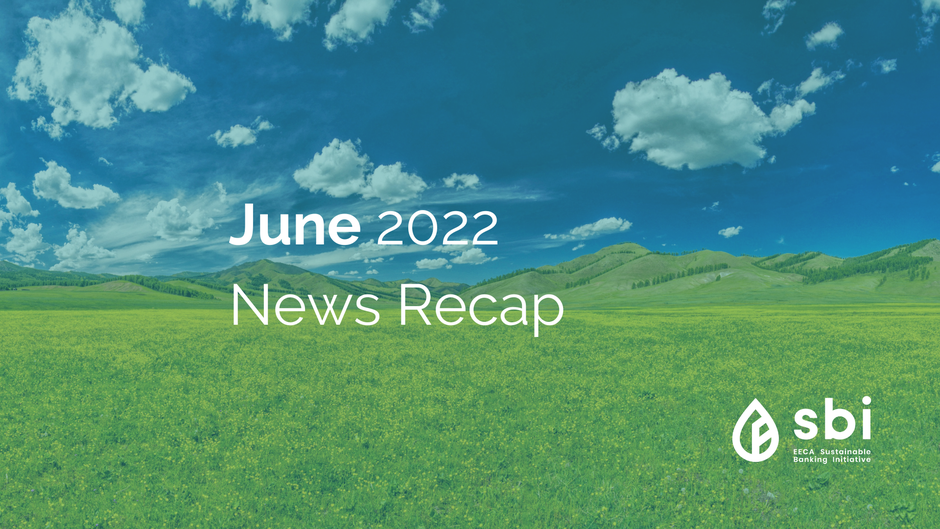 "Financial Inclusion and EECA" report is out! Click here to download the report.
Below are the news highlights of June 2022.
Lack of climate-change research in Central Asia raises odds of harsh consequences
A new report highlights gaps in understanding of how climate change will impact the region. Learn more... 
Chevron to Explore Hydrogen, Carbon Capture in Central Asia
Chevron Munaigas and KazMunayGas said they would evaluate the potential for carbon capture, utilisation, and storage as well as hydrogen production and methane management. Learn more...
Global wind industry unites to address climate and energy crises ahead of COP27
COP27 must be the moment countries come together to put renewable energy at the centre of climate action. This year, the Global Wind Energy Coalition for COP27 has convened to ensure world leaders recognise the urgent need for a massive step-up in the deployment of wind energy to resolve the twin crises of climate and energy. Learn more...
The EDB stands ready to become a hub for sustainable PPP projects in the EAEU+
A financial package of USD 7 million to Bank Arvand ЗАО Банк "Арванд" includes a USD 3 million loan under the EBRD GEFF aiming to increase access to green technologies for local households and SMEs in Tajikistan. The loan is also supported by concessional financing from the Green Climate Fund. Learn more...
EU Lawmakers Vote to Keep Nuclear and Gas out of Green Investment Taxonomy
Members of the European Parliament (MEPs) supported an objection on Tuesday to the classification of nuclear and gas energy as environmentally sustainable activities under the EU Taxonomy. The objection was supported by a majority of MEPs from the Economic and Monetary Affairs and the Environment, Public Health and Food Safety Committees in a 76 to 64 vote, raising the prospect that nuclear and gas could potentially be left out of the EU's green investment classification system. Learn more...
Kazakhstan's Emerging Solar Industry is Helping its Transition to a Green Economy
Like many economies in Central Asia, Kazakhstan relies heavily on fossil fuel. It uses coal in about 70% of its electricity generation. ADB partners with EBRD to support two major solar projects in Kazakhstan. These are milestone projects that will boost the country's energy mix. Learn more...
Global Banking Supervisor Tells Banks to Consider Linking Compensation to Climate Risk Management
Banks should consider incorporating long-term climate risks into their compensation policies, according to a new set of principles released by the Basel Committee on Banking Supervision, the primary global standard and policy setter for the banking industry. Learn more...
Ukraine stands to earn EUR 1.5bn from electricity trade with EU - report
EBRD offers new funds to Kazakhstan's Bank CenterCredit
EBRD extends US$ 60 million financing package to Bank CenterCredit. Funds will promote green and small business lending. Learn more...